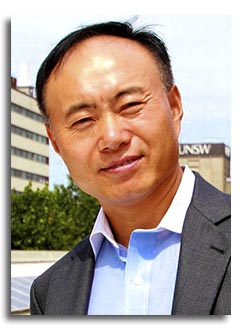 Abstract
Photovoltaics is driving the energy transition from fossil fuels to renewable energy due to recent and dramatic cost reductions which means that today PV has become the cheapest electricity generation technology available! UNSW contributes greatly to the PV industry through the development of new technology. The Chinese PV Industry plays a significant role in commercializing PV technologies through scaling up to mass production, developing supply chains, and modernizing manufacturing equipment. While the PV Industry is maturing very quickly there still remains huge opportunities for innovation. Dr. Shi will present some ideas and examples of innovations to make PV and renewable energy really part of our life.


Click HERE to download a PDF of the slides.
Click here to see all available video seminars.
Click here to go to the SPREE HOMEPAGE.
Brief Bio
Dr. Zhengrong Shi is the founder of Suntech Power Holdings Co., Ltd., for many years the largest global solar photovoltaic (PV) panel manufacturer. As a leading solar scientist, Dr. Shi is the inventor of more than 35 patents in PV technologies, and has published and/or presented more than 100 articles and papers in PV-related scientific magazines and at conferences. With a career spanning close to three decades as a solar scientist and entrepreneur he had been Deputy Research Director at Pacific Solar Pty., and a Senior Research Scientist and the leader of the Thin Film Solar Cells Research Group in the Centre of Excellence for Photovoltaic Engineering at the University of New South Wales in Australia.

In 2006, he was awarded the "Annual Economic Figure" and in 2007 he was honored as the "Green Figure of the Year" both by CCTV. Dr. Shi received the Murphy&Spitz Global Leader Award 2011 at the World Economic Forum for Suntech's exemplary environmental and sustainability standards. In 2009, he was on Business Week's "China's Most Powerful People" list. In 2007, Dr. Shi was named "50 people who could save the planet" by The Guardian, and was named by TIME as a Hero of the Environment, an annual list that celebrates the most innovative and influential protectors of the planet.

Dr. Shi continues his innovation on high efficiency silicon solar cell manufacturing technology, development of ultralight, flexible, thin and aesthetic solar product for architectural and building integration, energy storage and smart energy management. He also assisted start-up companies including SunMan, SunDrive, Heatmate, AlphaEEE.

Dr. Shi received a bachelor's degree in optical science from Changchun University of Science and Technology in China in 1983, a Master degree in laser physics from the Shanghai Institute of Optics and Fine Mechanics, the Chinese Academy of Sciences in 1986, and a PhD degree in electrical engineering from the University of New South Wales in Australia in 1992. From 2009 Dr. Shi is a fellow of the Australian Academy of Technological Sciences and Engineering (AATSE) and in 2012 he became an Adjunct Professor at the University of NSW.