UNSW School of Photovoltaic & Renewable Energy Engineering
Inverters in a PV system – The second half of the story (Part II)
Scott Partlin - SMA Solar Technology
| | |
| --- | --- |
| Scott Partlin, at UNSW SPREE, 26 November 2015 | |
Scott Partlin (49Min)

SMA Solar Technology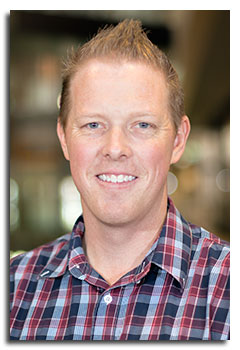 Abstract
In this second seminar on PV inverters, issues related to inverter selection for specific applications will be discussed including the monitoring and control requirements of a PV plant. Overall reliability of a PV plant and the inverter's role in this will be discussed. Specific information about typical inverter failure mechanisms and their prevalence will be presented, including SMA's specific experience in the local Australian market. The talk will conclude with a question and answer session


Click HERE to download a PDF of the slides.
Click here to see all available video seminars.
Click here to go to the SPREE HOMEPAGE.
Brief Bio
Scott is Photovoltaic Engineer, who graduated with the first class of PV Engineering students at UNSW in 2003. Since graduating he worked in thin film crystalline silicon on glass cell and module research in Australia with CSG Solar. This role saw Scott travel to Germany to assist CSG Solar as it set up full scale manufacturing facilities. Scott then joined Suntech Power where he worked in both Australia and China in a role managing projects to deliver business and efficiency improvements to Suntech's PV cell and module production. During this time, Scott also completed a Masters in Technology and Innovation Management studying part time at UNSW. After returning to Australia, Scott then worked as Senior Photovoltaic Engineer for Solahart, a national supplier of residential PV and Solar hot water systems and was responsible for the system design of all their PV systems sold nationally. In 2014, Scott joined the world's largest and leading inverter manufacturer SMA Solar Technology. As a Global Product Manager for Australia and SE Asia, he has responsibility for ensuring SMA's inverters products are fit for market and are adapting to meet changing customer and regulatory requirements.