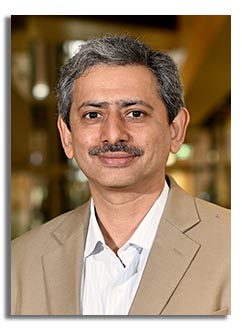 Abstract
India is blessed with sun. However, roof top solar installation (with a solar mission target of 40 GW by 2022), is just 4 GW. A 360° approach, including location, prediction, planning, installation and monitoring is needed for success. The presentation will cover these areas:
1. Growth of the market for roof top solar in India;
2. Indian Government initiatives and polices for driving the growth;
3. Business models and opportunity matrix;
4. Special applications and niche markets;
5. Growth drivers and value changes.




Click HERE to download a PDF of the slides.
Click here to see all available video seminars.
Click here to go to the SPREE HOMEPAGE.
Brief Bio
Sachin is a promoter director of Autonic Energy ( 1994 ), a company engaged in offering innovative products; services and solution in Renewable Energy. He is also passionate professional, involved in diverse activity such as innovating; training and teaching management life experience. In brief, Sachin can be described as a combination of entrepreneurial and professional rolled in on as Proneurial.

Driven by his mission in life, Sachin has embarked in establishing Autonic as a Green energy company in 2005. The company has made foray in reducing carbon foot print for Corporates, Commercial and Residential application. Autonic under stewardship of Sachin, has developed India's first Solar ATM and Solar Cold Chain. Autonic is system integrators and solution providers with initial projects with Wind Solar hybrid systems, solar products manufacturing and Roof top Solar Power and Grid tied Solar Solutions.

Autonic has received awards for innovation and ideation, Innovista Award by House of Tata's , Greendot awards, USA has acknowledged contribution in design aspects in solar 2014 for creation of Solar Forest.

Autonic is working to promote floating solar initiatives in Indian market with JV partner ISIfloating, Spain. Floating solar opportunity can scale to 10 GW.

Development of Sunganak, a tool for system integrator and users for site assessment, calculation of return of investment will be enabler to the uses to know the solar opportunity on a particular roof-top. Sanganak is designed for housing society, educational institutes, individuals , Commercial establishments, Industrial and factory , ware houses and sheds for Indian Market.

Sachin Rele pursues his passion of teaching as visiting faculty in NMIMS and other Management institutes in Mumbai. He has also taught marketing in the Advanced Management Program for senior managers. In addition, he is speaker in various forums and informative sessions on solar energy.

Sachin is an alumnus of Mumbai University, with Bachelor of Science (Physic), Degree in Laws. and Masters in Business Administration (Marketing) and a Bachelors Degree in Laws. He is a Member of Bombay Management Association.