UNSW School of Photovoltaic & Renewable Energy Engineering
Solar: the Prodigal Sun?
Nigel Morris - SolarBusinessServices
| | |
| --- | --- |
| Nigel Morris, at UNSW SPREE, 11 June 2015 | |
Nigel Morris (69Min)

SolarBusinessServices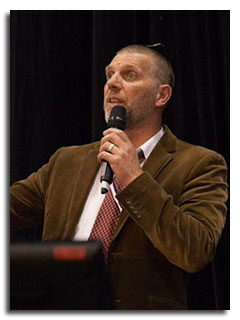 Abstract
Solar power has grown to be representative of the new Australian Prosumer. Loved by the Jones's, hated by utilities and philosophically opposed by some of our leaders, is solar the problem or the solution? SolarBusinessServices' Nigel Morris will provide an update on the market, consumer trends, segment growth and inevitable rise of storage and electric vehicles in Australia.


Click HERE to download a PDF of the slides.
Click here to see all available video seminars.
Click here to go to the SPREE HOMEPAGE.
Brief Bio
Nigel Morris has been involved in solar energy for more than 20 years and is the founder of SolarBusinessServices and Moto-Electro. He has worked for small solar companies as an installer, designer and salesman of solar and storage systems. He has worked for International solar manufacturers in a variety of senior sales and business development positions and helped deploy thousands of solar systems around the world, including some highly prestigious projects. Five years ago, Nigel founded SolarBusinessServices, an award winning and highly respected solar consultancy. The company provides business coaching for small solar company's, advises some of the world's largest solar corporations on strategy and conducts leading research for industry and Government. Recently he also formed Moto-Electro to help accelerate the use and grid integration of electric motorcycles. Nigel sits on a number of advisory boards in the solar industry, is a prolific blogger and an enthusiastic advocate for the solar industry and electric transport.