UNSW School of Photovoltaic & Renewable Energy Engineering
Innovation in thin-film material and processing for crystalline silicon solar cells
Kaining Ding - Research Center Juelich
| | |
| --- | --- |
| Kaining Ding, at UNSW SPREE, 25 February 2019 | |
Kaining Ding (42Min)

Research Center Juelich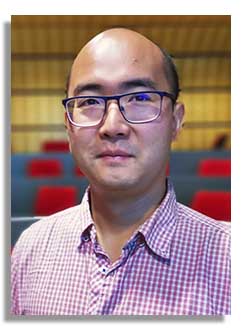 Abstract
An overview on the crystalline silicon solar cell research activities at research center Juelich will be given with a focus on the innovation in thin-film material and processing for crystalline silicon solar cell, e.g. silicon heterojunction solar cell and passivated contact solar cell.


Click HERE to download a PDF of the slides.
Click here to see all available video seminars.
Click here to go to the SPREE HOMEPAGE.
Brief Bio
Education: • 2004-2007 BSc. study of Material Science, RWTH-Aachen University • 2007-2009 MSc. study of Material Science, RWTH-Aachen University • 2010-2012 PhD at Institute for Energy and Climate Research 5, Research Center Juelich • 2013 Postdoc at Institute for Energy and Climate Research 5, Research Center Juelich • 2014-present Group leader at Institute for Energy and Climate Research 5, Research Center Juelich Honors and Awards: • 2009 Spingorum Award of RWTH-Aachen University for excellent MSc. study • 2015 Borchers Award of RWTH-Aachen University for excellent PhD work Research Fields: • Fabrication and characterization of silicon alloy materials • Silicon thin-film, silicon heterojunction and passivated contact solar cells • Vehicle integrated PV Active Roles: • Coordinator of the EU Project "NextBase" • Organizer MRS Fall "Silicon for Photovoltaics" symposium • Chair "International SHJ Workshop"