UNSW School of Photovoltaic & Renewable Energy Engineering
Towards an intelligent future energy grid
Joe Dong - Sydney University
| | |
| --- | --- |
| Joe Dong, at UNSW SPREE, 15 September 2016 | |
Joe Dong (39Min)

Sydney University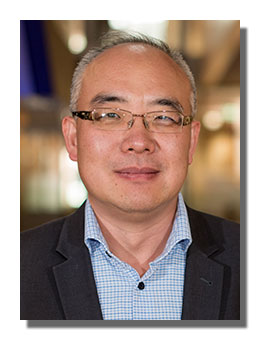 Abstract
With the development of smart grid across the world, the focus of research has gradually shifting toward a future intelligent grid / energy internet in order to effectively achieve the emission reduction objectives and best utilise renewable energies. Current work on smart grid is mainly on setting up the smart infrastructures to facilitating digital information flow within the smart grid network which includes cyber network and physical power network. However, in view of wider system connectivity and investment efficiency, system wide development toward a future intelligent grid is becoming increasingly important and has been recognised in many nations. A future grid may include the electricity network (together with its cyber network for control and communication) as well as the primary energy network for gas, water and other primary energy resources. This presentation outlines the research development toward a future grid including system security, co-optimisation planning, as well as an overview of the research work in energy networks.


Click HERE to download a PDF of the slides.
Click here to see all available video seminars.
Click here to go to the SPREE HOMEPAGE.
Brief Bio
Professor Z.Y. Dong obtained Ph.D. from the University of Sydney, Australia in 1999. He is Professor and Head of the School of Electrical and Information Engineering, The University of Sydney. He also serves as director for Faculty of Engineering and IT Research Cluster on Clean Intelligent Energy Networks, and the Tsinghua-Sydney Research Alliance on Energy Networks. He is a member of the ARC College of Experts panel. He was Ausgrid Chair and Director of the Ausgrid Centre for Intelligent Electricity Networks (CIEN) at the University of Newcastle. He also worked as manager for (transmission) system planning at Transend Networks (now TASNetworks), Australia. His research interest includes smart grid, power system planning, power system security, load modeling, renewable energy systems, and electricity market. He is an editor of IEEE Transactions on Smart Grid, IEEE Transactions on Sustainable Energy, IEEE Power Engineering Letters and IET Renewable Power Generation. He is an international Advisor for the journal of Automation of Electric Power Systems. His H-index is 48 (Google Scholar) or 35 (Scopus) as of June 2016.