UNSW School of Photovoltaic & Renewable Energy Engineering
Research update seminar
Darren Bagnall - UNSW SPREE
| | |
| --- | --- |
| Darren Bagnall, at UNSW SPREE, 8 December 2016 | |
Darren Bagnall (9Min)

UNSW SPREE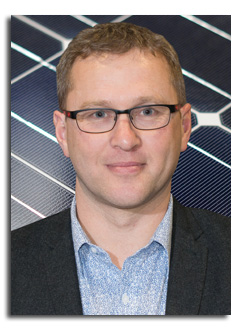 Abstract
2016 Research Update Seminmar 1 of 4:

Professor Darren Bagnall outlines UNSW SPREE's research achievements for 2016 and discuses SPREE's targets for research and funding, including the need for 8 more academics to be hired by SPREE in 2017/2018.


Global picture: PV and RE continue to grow
(Australia more challenging than it should be)
ARENA: gets to keep $800m - and ability to provide grants
UNSW: Strategy2025
$12m of OPEX support for SPREE - $10M for SIRF via TORCH
'Hunting Licence' for 8 new academics over next 2 years
3(.5) - trimester system starting 2019. Strategy2019

Research Vision:
What can we do? – what do we need to do it?
MacArthur 100&Change ($100M)
Improve device and systems technology, improve education….
Meanwhile: 4 new Photovoltaics world records were awarded to SPREE in 2016.

Click HERE to download a PDF of the slides.
Click here to see all available video seminars.
Click here to go to the SPREE HOMEPAGE.


Brief Bio
Professor Darren Bagnall joined UNSW in December 2013 as Head of the School of Photovoltaic and Renewable Energy Engineering (SPREE).

Prior to his appointment he was at the University of Southampton where he was Head of the Nano Group in the school of Electronics and Computer Science. His research has included pioneering work across a range of semiconductor devices, photonics and nanotechnologies. Including demonstration of the world's first zinc oxide laser and the first planr chiral optical metamaterial.

He is a former Chair of the UK-Solar Energy Society, and has over 130 refereed journal papers.