UNSW School of Photovoltaic & Renewable Energy Engineering
Passivation of Si and CIGS surfaces
Bart Vermang - University of Uppsala and IMEC
| | |
| --- | --- |
| Bart Vermang, at UNSW SPREE, 2 October 2014 | |
Bart Vermang (48Min)

University of Uppsala and IMEC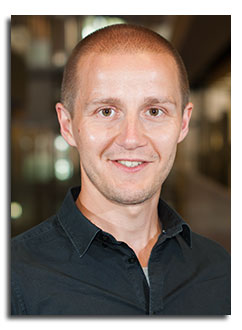 Abstract
The seminar will start with a brief introduction of aluminium oxide (Al2O3) as surface passivation for industrial crystalline silicon solar cells. In this part, the focus will be on atomic layer deposition (ALD) of Al2O3 and topics such as its thermal stability, its integration into industrial solar cells and the illumination dependency of these cells will be discussed in-depth.

The main share of the talk will be on the integration of the concept of surface passivation in thin-film solar cells. In this part, various approaches to fabricate Al2O3 rear-passivated copper indium gallium (di)selenide (CIGS) solar cells with nano-sized local rear point contacts and their outcome will be discussed in-depth. The concept is thus illustrated in CIGS solar cells, but can be generalized to other high quality thin-film solar cell technologies as well .


Click HERE to download a PDF of the slides.
Click here to see all available video seminars.
Click here to go to the SPREE HOMEPAGE.
Brief Bio
Bart Vermang received the M.Sc. degree in experimental physics from the University of Ghent (Ghent, Belgium) in 2005, and the Ph.D. degree in electrical engineering from the University of Leuven (Leuven, Belgium) in 2012. During the M.Sc. ?nal research project he studied surface reactions in model metallic catalyst systems at the Norwegian University of Science and Technology (NTNU) in Trondheim, Norway. His Ph.D. research performed at IMEC in Belgium, where he developed novel surface passivation structures for industrial silicon solar cells. At present, he holds a Postdoctoral position at the University of Uppsala (Uppsala, Sweden), where his challenge is to integrate progressive Si solar cell concepts in thin-?lm cells. In 2015, he will return to IMEC to work on the development of high band-gap thin films for use as top absorber material in tandem solar cells.