UNSW School of Photovoltaic & Renewable Energy Engineering
Fabrication and characterisation of optically interesting materials
Angus Gentle - University of Technology Sydney
| | |
| --- | --- |
| Angus Gentle, at UNSW SPREE, 10 May 2018 | |
Angus Gentle (52Min)

University of Technology Sydney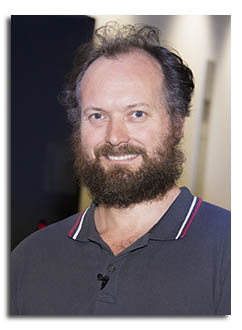 Abstract
Having over the years collaborated with a number of UNSW staff and students, this talk will give a highlight of some of the various areas we do research including: Nanostructures, radiative cooling, transparent electrodes, paints, LEDs, PV, building thermal modelling. The talk will cover various optical characterisation methods we can carry out at UTS, such as ellipsometry, spectroscopy, FTIR, emittance, scattering, work function, temperature dependent optical properties.


Click HERE to download a PDF of the slides.
Click here to see all available video seminars.
Click here to go to the SPREE HOMEPAGE.
Brief Bio
Angus commenced working at UTS in 2000 undertaking research part-time during his undergraduate degrees in BSc (Applied Physics) and BE (Electrical). After completing a PhD at UTS in 2008, Nanostructured Thin Films – Plasmon Resonance Phenomena, he began his post-doctoral endeavours with a year at the UNSW SPREE working with Gavin on Si Quantum Dot Solar cells.

Returning to UTS as a post-doctoral fellow in 2009, he has worked on various projects including: An ARC Discovery Project on Radiative Cooling using sky-window spectral selectivity; and a CSIRO Flagship Transparent Electrodes cluster project developing multi-layered transparent electrodes for OPV and OLED devices. He is currently working on an ARC Discovery Project which involves producing innovative structures which incorporate combined angular and spectral control.